Watch Video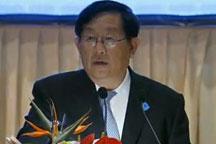 Play Video
On the eve of the International Cooperation Conference on a Green Economy and Climate Change, China's ministries have vowed to promote economic transformation and restructuring, by developing eco-friendly industries.
Wan Gang, Science and Technology Minister, said, "The Ministry of Science and Technology has signed 103 international cooperation programs with 97 countries. Climate change and environmental protection are the priority fields in bilateral cooperation."
Zhou Shengxian, Environmental Protection Minister, said, "We must strengthen the evaluation system of environmental impact, strictly control industrialization and enterprise expansion, and firmly oppose excess construction and low productivity."
Editor:Zhang Pengfei |Source: CCTV.com