Watch Video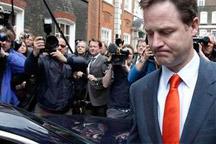 Play Video
About one-thousand protesters have delivered a petition to the Liberal Democrat leader Nick Clegg, calling for a change to Britain's electoral system. Clegg interrupted a meeting with members of his party to receive the petition.
The demonstrators want Britain to scrap its first past the post system, in favor of proportional representation. The protest came while Liberal Democrats debated whether to support a new government led by the Conservative Party.
Billy Bragg, Songwriter and Activist, said, "Our message is we need a fair voting system that reflects everybody's vote. And the Liberal democrats have the opportunity to ensure that the next election is under proportional representation. That's what we want. We want out politicians accountable, we want everyone's vote to count."
The election result has offered the third-place Liberal Democrats an opportunity to bargain for the change, which has long been one of their key policies.
They are advocating a system of Proportional Representation, common to continental Europe, in which parties gain parliamentary seats that reflect their total share of the vote. The system is much less likely to put one party in a dominating position.
On Friday, David Cameron offered the Liberal Democrats a committee of inquiry into the voting system, in return for their support. Prime Minister Gordon Brown has offered to legislate for a referendum on Proportional Representation.
Liberal Democrat MP, David Laws, said Saturday's meeting of senior members of the party to discuss a possible deal with the Conservatives was "very positive and constructive".
David Laws, Liberal Democrat MP, said, "We are determined to put the national interests before party advantage and to play our part in delivering good government that the people of our country are entitled to expect. "
The Liberal Democrats announced that their negotiating team would meet again with the Conservatives at 1000 GMT on Sunday. Meanwhile, the debate goes on across the country as to the best way forward in deciding who should hold power.
Editor:Yang Jie |Source: CCTV.com