Watch Video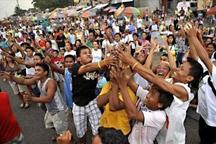 Play Video
Campaigning has finished ahead of Monday's national elections in the Philippines. More than 17,000 positions, from the country's president to municipal councilors will be contested. The Philippines has about 50 million registered voters.
Pre-election surveys show opposition Senator Benigno Aquino has widened his lead over the eight other presidential candidates. 42 percent of respondents said they would vote for him, giving him a 22 point lead over his closest rival, former President Joseph Estrada. The 50-year-old lawmaker has served three terms in the House of Representatives, and entered the Senate in 2007.
He only decided to join the presidential race in September, following the death of his mother, former President Corazon Aquino. The election will be the first automated ballot in the country's history. However, this has raised fears of possible technical problems. The Election Commission has rejected a call by six presidential candidates, including Aquino, for a parallel manual count, in case of system failure.
Editor:Yang Jie |Source: CCTV.com