Watch Video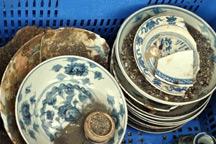 Play Video
The discovery of the sunken ship from more than five hundred years ago is attracting world wide attention. Nearly 1,000 pieces of blue and white porcelain have been excavated. Despite centuries under water, many of the pieces remain intact.
The "blue and white", also known as qinghuaci in Chinese, is one of the most appreciated porcelain types. It is simple and plain, but displays a variety of expressions through the shape and painting skill and motif of the piece.
Compared with other porcelain styles, the blue and white seems to be more tightly associated with ancient Chinese culture, and its influence is easily found across the world.
The blue and white porcelain adopts under glazing skills. The blue pattern is painted onto the body of the porcelain with very finely ground cobalt oxide mixed with water. After that the piece will be glazed and fired at a temperature of around 1300 degrees.
Motifs for porcelain pieces vary during different periods of Chinese history. But generally speaking, they feature patterns with lucky connotations, such as a cloud and thunder pattern, peony, peach, pomegranate, pine tree, lotus flower, magpie, or deers.
Chinese paintings and calligraphy are also a popular decoration. Most of the shapes tend to be standardized and consistent, like bottles, jars, plates, bowls, and vases. It's said these shapes suited the taste of scholars of the times.
For hundreds of years, blue and white porcelain was a very popular export in China's foreign trade. It was viewed as a status symbol by royal families and nobles in many western countries.
However, during the period when the Nan'ao No. 1 sunk, China had a ban on foreign trade. The pieces that have been discovered on the ship are thought to have been smuggled out of the country. This reflected the popularity of the porcelain, and the risks that were taken to satisfy international demand.
In modern times, the appreciation for blue and white porcelain has not diminished. Many pieces are admired in museums across the world, with some being auctioned at high prices.
Editor:Zhang Ning |Source: CCTV.com