Watch Video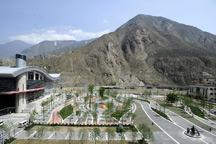 Play Video
Reconstruction work has been progressing steadily in Sichuan Province, with the focus on rebuilding of urban and rural housing, public services, infrastructure, industrial revitalization, quake relief and disaster prevention.
The earthquake had razed Yingxiu Township of Wenchuan County to the ground. The new Yingxiu has risen right on top of where it collapsed two years ago. Every structure is built with high-standard quake-proof technology and material from home and abroad.
Yingxiu will be an international demonstration plot for quake relief and disaster reduction when reconstruction is completed.
Cai Damin, deputy secretary of CPC Yingxiu Township Committee, said, "This doesn't mean that Yingxiu is an experimental zone for quake-proof materials and technology. We used very mature and advanced materials and technology to protect Yingxiu from getting hurt again."
The rebuilding of rural housing has been the priority. 130,000 homes in Aba Prefecture had all been repaired or rebuilt by September 2009. Reconstruction of 90 percent of urban community housing has also been completed.
Set among some stunning scenery, the brand new villages, with their distinctive ethnic culture, are becoming a pleasant travel destination.
Luo Debing, head of Moutuo Village, Maoxian County, said, "The environment is so beautiful here now, attracting many tourists. The per capital income now is 4,022 yuan, twice as much as before."
Shuimo, a largely ethnic Qiang Township, was a tourism hot spot before the earthquake. A group of senior bikers, which lost eleven of its members in the quake, has come back to see the dramatic changes.
Zhong Shifen, member of Chengdu senior motorbike Club, said, "When we last came here, all buildings had collapsed before our eyes. Look at the place now; it's so beautiful everywhere."
Reconstruction goes on. The local government say their ultimate goal is for quake zone residents to put the past behind them and live in peace and contentment from here on.
Editor:Zhang Ning |Source: CCTV.com