Watch Video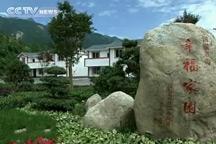 Play Video
The city of Mianzhu was one of the hardest-hit areas of the Wenchuan earthquake. But many homes and vital infrastructure have been rebuilt thanks to a team from Jiangsu Province.
Villages on the outskirts of Mianzhu were devastated in the quake. Many people were left homeless after buildings and houses collapsed. Under a comprehensive reconstruction plan by Jiangsu Province, new villages have been built with infrastructure including schools, hospitals and sports venues, as well as social security services. An evaluation from the team shows that Mianzhu is now 20 years ahead of social development standards.
Liu Dawei, deputy director of Jiangsu-Mianzhu reconstruction Team, said, "We wish that our achievements in reconstruction can serve as an example and lead the way for future construction in Mianzhu. It will push forward modernization of this city."
Xiao Yongqun, villager of Xuanlang Village, Mianzhu, said, "We and our future generations will never forget Jiangsu for its workers selfless efforts in reconstructing Mianzhu."
Editor:Zhang Ning |Source: CCTV.com