Watch Video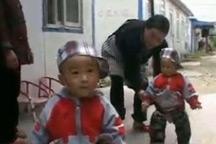 Play Video
Two years ago, Yang Jingui and his wife lost their daughter in the Wenchuan earthquake. But the birth of twin sons has brought the couple happiness again.
These twin boys were born one year after the quake. Their father Yang Jingui is 40 years old, and their mother Ren Xiufang is 39.
Like many other families, the couple lost their only child, a daughter, in the quake.
The birth of the twins has given them strength to live.
The girl in the photo is their daughter Yang Qian. It still hurts to talk about her.
Twins' father Yang Jingui said, "We went to her school, and tried to dig her out, but we failed. We found our daughter four or five days later."
Now they have children to love again. And life is getting better.
The quake inflicted severe damage on the town. But two years later, there are beautiful buildings and broad roads. The people are filled with hopes again, and move forward with their new lives.
Editor:Zhang Ning |Source: CCTV.com