Watch Video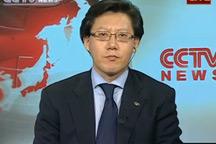 Play Video
For more on the reconstruction in Sichuan, we are joined by our current affairs commentator, Professor Teng Jimeng from the Beijing Foreign Language Studies University.
Question 1: Welcome, Professor Teng. Rebuilding homes from the rubble of two years ago has been everyone's wish. And we are pleased to see reconstruction has been carried out in a systematic and well-organized way. To your knowledge, what has been the guiding principle of the reconstruction program?
Qeustion 2: Initial estimates say it will take at least 3 years to rebuild all the affected areas. The process seems to be going smoothly. Do you think they'll finish ahead of time? What are some of the biggest difficulties?
Question 3: Reconstruction isn't just about new buildings. It's also about rekindling the hope for life. That's why meeting human needs have been the priority of the reconstruction efforts, both materially and mentally. What aspects have particularly impressed you in this regard?
Question 4: One big concern is the children and their living conditions. But psychological recovery could take a very long time. What kind of help do you think they still need?
Editor:Zhang Ning |Source: CCTV.com