Watch Video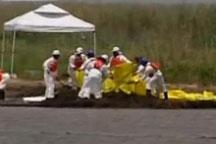 Play Video
Embattled oil giant BP has dispatched clean up crews to remove contaminated sand from the southern US coastline.
Cleanup workers wearing hazardous material suits are removing oil-covered sand from Louisiana's shoreline.
Booms have been set up all across the Gulf of Mexico to protect other shorelines from the oil slick. A BP spokesman confirmed that oil has washed ashore at Alabama and two islands off Louisiana's coast.
Daren Beaudo, BP Spokesman, said, "Well we are outside the South Pass of Louisiana where some of the first oil has impacted the shoreline. What we have behind is a forward staging area. We see a large barge with all kind of material on it and men who are loading items on the smaller boats. You see a lot booms. That's a boom that absorbs oil along the shoreline, and you see John boats and boat motors being loaded on, again, to take that equipment out and place it in position to attack the spill on the shore."
Related stories
Editor:Zhang Pengfei |Source: CCTV.com