Watch Video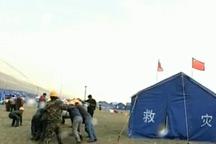 Play Video
On April 14th, a 7.1-magnitude earthquake rocked the Yushu Tibetan Autonomous Prefecture in northwestern China's Qinghai province, killing at least 2,200 people. One month later, reconstruction has been progressing well.
As of Thursday, the quake zone has also received donations in money and materials from civilian sources totaling over 1.2 billion yuan. Over 3,500 tons of food, 17 thousand cases of bottled water and 73,000 tents were delivered. A large amount of clothing, quilts and prefab houses were also allocated. Tons of rescue equipment and medicine have been dispatched and more are on their way.
The allocation of aid fund and subsidies from government authorities has begun. The financial aid includes compensation for victims, subsidies for emergency evacuation, and living expenses for households with financial difficulties.
Editor:Zhang Ning |Source: CCTV.com