Watch Video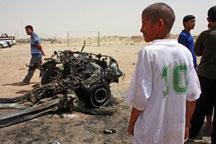 Play Video
Three blasts have ripped through a stadium in northern Iraq, killing eight people and wounding 120 others.
Insurgents attacked players and spectators at a soccer match in the city of Tal Afar. One attacker drove a pick-up truck laden with explosives onto the soccer pitch, while two suicide bombers blew themselves up in the crowd.
Tal Afar is predominantly inhabited by Shi'ite Turkmen and is located about 60 kilometers west of Mosul, where Sunni Islamist insurgents such as al Qaeda remain active.
Editor:Zhang Ning |Source: CCTV.com