Watch Video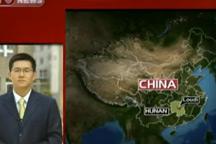 Play Video
For more on the floods in Hunan Province, we're now joined on the line by our reporter, Wang Guan. He is at Loudi city, one of the hardest-hit areas in western Hunan.
Q1: Hello, Wang Guan. What is the latest on the situation where you are?
Q2: We've just seen the situation at Shanxi township in Xupu County, which is about 200 kilometers from where you are at Loudi. Can you update us on how residents are coping in Xupu County?
Editor:Zhang Ning |Source: CCTV.com