Watch Video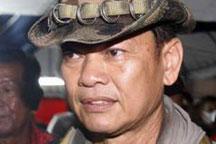 Play Video
We begin in Thailand, where the death toll from clashes between government soldiers and red-shirt protesters has risen to 35.
The country's emergency service has confirmed that red-shirts' chief paramilitary adviser, Khattiya Sawasdipol, has died after he was shot days earlier. More than 200 people have been injured so far in the violence.
Protest leaders are calling for UN-mediated talks, but the government has rejected the call for outside assistance.
Violence continued in Bangkok on Monday.
Protest leaders say they are ready to return to the negotiating table. But they say talks should be mediated by the United Nations. They also are demanding a ceasefire and a withdrawal of the army.
Nattawut Saikua, Red-Shirt Leader, said, "Whenever the government announces the ceasefire, and withdraws the soldiers out of the area, we are willing to start a negotiation process to find a peaceful solution to end this. We are calling for the United Nations to be the mediator in these negotiations to end the crisis."
But the government is taking a tough line. It says there is no reason for the army to withdraw, as the operation is only targeting armed terrorists among the Red Shirts. It wants protest leaders to surrender.
Meanwhile, the government has rejected calls for UN-supervised talks.
Panitan Wattanyajorn, Thai Government Spokesman, said, "We reject demands for UN mediation. No Thailand government has ever allowed anyone intervene in our internal affairs. We can solve our problems ourselves. But we are willing to listen."
Authorities declared a state of emergency in five more provinces on Sunday, bring the total to 22.
They also suspended 106 bank and stock accounts linked to providing financial support to the protesters.
The government declared Monday and Tuesday public holidays, so nobody has to cross the danger zone to go to work.
Some women, children and the elderly within the Red Shirt protestors have moved into a nearby Buddhist temple for safety. The government is seeking cooperation with protest leaders to dispatch Red Cross workers and other human rights volunteers into the area, to persuade people to leave.
Meanwhile, the military has delayed imposing a curfew in Bangkok, saying the situation is still under control.
The two-month-long anti-government rally is an attempt by the Red Shirts to force the Prime Minister to dissolve parliament and call new elections. It has seen an upsurge in violence since Thursday.