Watch Video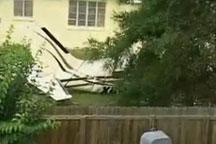 Play Video
A small plane has crashed into a house in the southern US state of Florida.
The plane hit the roof of a house and landed in a garden in Clearwater on the state's west coast. Several people were inside the house at the time, but nobody was hurt.
There were three people on board the plane, but none of them suffered life-threatening injuries.
The Federal Aviation Administration said the plane is a Piper PA-46 that departed from a nearby airpark.