Watch Video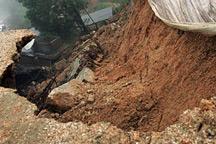 Play Video
Landslides triggered by heavy rain have wreaked havoc in Xupu County of central China's Hunan Province. An estimated 6,500 people have been affected by the disaster.
In this village, 64 houses were destroyed by the powerful landslide. The damage is different from that caused by floods. The deluge of mud and rocks requires more intense efforts in relief and rebuilding.
Villager of Xupu County, Hunan Province, said, "I saw the landslide, the whole process."
"No. We rushed outside."
"We've lost the kitchen. Now we have to cook outside."
Some villagers have left the village in search of work to earn money and rebuild their homes, while those who remain are helping each other.
Editor:Zhang Ning |Source: CCTV.com