Watch Video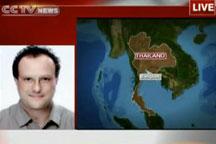 Play Video
Now, for the latest on the situation in Thailand, we're joined on the phone by our correspondent, Eric Sedin.
Q1: Hello Eric Thailand has just gone through a 10-hour curfew. Can you give us a sense of the atmosphere around you right now? Is the city still tense?
Q2: Protestors have set up many barricades on roads. Are the barricades to be cleared away to restore the traffic flow?
Q3: We've heard that many protestors -- including women, children, and elderly people -- remained at a Buddhist temple overnight. What's the current situation there?
Q4: The Thai Prime Minister says he's confident and determined to end the problems, and restore peace and order. Has the Thai government announced any specific measures to achieve this goal?
Q5: How are local residents responding to the curfew?
Editor:Zhang Pengfei |Source: CCTV.com