Watch Video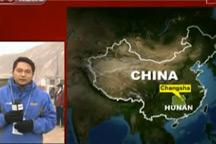 Play Video
For more on the weather in Hunan, we are now joined on the phone by our correspondent Yin Xiang, who is in the provincial capital city Changsha now.
1. Can you brief us on the weather situation in Hunan? Are the rainstorms continuing?
2. Flooding caused by rainstorms has apparently ruined farmland and disturbed the lives of local residents. Please tell us what you have seen there.
3. How has the local government responded to the disaster? Has there been any measures to relocate the residents and help them resume their normal lives?
Editor:Zhang Ning |Source: CCTV.com