Watch Video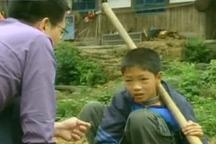 Play Video
Many villagers in central China's Hunan Province, whose lives were upended by severe flooding last week, can now finally breathe a sigh of relief. Villagers are bidding farewell to makeshift tents and are going back home. CCTV correspondent Wang Guan traveled to Fengjia Township, one of the worst hit regions, to file this report.
This used to be one of the worst flooded schools in Fengjia County but now things are finally getting back to normal.
A massive torrential storm damaged the homes of most of these children.
One look at them now, and you can hardly believe they just went through one of the worst moments of their lives.
Today, many students, like Luo Chongyi, are going home after living in make-shift tents for a week.
But the home he's returning to is a far cry from the one he used to live in.
Built just under the foot of a mountain, the doors of his home were all washed away by flood waters.
One glance, and Luo Chongyi is reminded of that horrible night when the flood struck.
Student Chongyi said, "I was scared and dared not sleep. After I moved to the tent, I kept thinking about my house. I thought it might be damaged again by another flood."
But Luo Chongyi tried to stay positive and helped his father plough the flooded family farm.
He told us he usually did his homework right after school, but starting from now, he will help out on the farm.
While Luo Chongyi works in the field, his father tries to pack their belongings.
Local authorities relocated the family within 24 hours after the flood struck. But now it's time to say goodbye to what has been their home away from home.
Rebuilding their life takes more than returning to their place of origin. The local government is well aware of the challenges ahead.
They have purchased rice from other cities in the province and are taking them to a redistribution center.
By the end of the day, they will deliver one bag to each household.
Ouyang Hanbin, deputy director of Fengjia Township Relief Center, said, "We are doing our best to ensure that number one, there will be no more casualties, and number 2, we hand out new farming tools and create conditions for new initiatives such as hiring farmers to repair bridges and roads."
Damaged roads are common sights in this village.
But since there is no alternative path, many people take the risk and walk along a road that might collapse at any time.
Director Ouyang told us there are hundreds of damaged roads like this one. He said it is important to engage local villagers as well as getting help from the provincial government to repair them.
Editor:Zhang Ning |Source: CCTV.com