Watch Video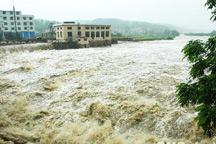 Play Video
Southern parts of China have suffered another round of torrential rains. Some places have even been hit by hailstones, triggering secondary disasters, such as landslides.
Parts of Shaoguan City in Guangdong Province have been flooded due to the sudden onslaught of heavy rains.
The city's sewage system was unable to deal with the volume of rain, forcing the closure of some kindergartens and schools on lower levels.
A student of Guangdong Province said, "The water rose to the level of our knees. We came out from the classroom one by one, and rolled up our trousers and took off our shoes."
Local authorities have launched an emergency response, closing all schools in vulnerable areas.
Meanwhile, Gutian County in Fujian Province has seen bouts of hailstorms. Power was cut off and huge swathes of farmland were severely damaged.
Local authorities have helped evacuate residents to safety.
In Chongqing Municipality, continuous storms have caused a water reservoir to sink in Fuling District. A split near the top is over 100 meters long, and is getting worse.
Survivoe Chen Mingshu said, "The width of the crack is 30 centimeters, and the sunken area is more than one meter deep."
Residents of the surrounding areas have been evacuated to safety. Local authorities have dispatched related experts to monitor the situation around the clock.
The storms have also triggered landslides in Luxi county of Hunan Province. A massive falling rock struck the roof of a restaurant, destroying not only the building, but a van parked nearby as well.
Restaurant employee Xiang Ping said, "I was in the kitchen at 9 o'clock when I heard the sound of the landslide. I immediately ran out, and the rock stopped at the gate. I could not get into the house and ran onto the road."
Related departments have arrived at the accident site and went to great length to remove the huge rock and resume traffic.
Editor:Zhang Ning |Source: CCTV.com