Watch Video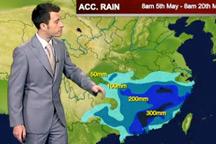 Play Video
For more information on the severe weather in China's southern areas, we are now joined by Darryl Snow, from the China Meteorological Bureau.
1. Hello Darryl. Thanks for joining us. The rainfall in Southern China this year has been much more than previous years. It has already caused floods and landslides, hampering people's lives and production. Why has this year's weather been so abnormal?
2. We have learned that a fifth round of rainstorms is coming. Could you tell us more about the scope and character of this round?
3. How long will the extreme weather last?
Editor:Zhang Ning |Source: CCTV.com