Watch Video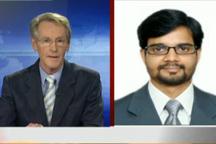 Play Video
Let's cross live now to our Indian correspondent M. Sidheswar. Hi Sid, what's the latest there?
Q2.
We keep hearing mixed reports on the number of passengers and crew onboard. And what are you hearing on the death and injury toll?
Q3.
Is there any word on the passengers' nationalities?
Q4.
We've just had an unconfirmed report the plane was a Boeing 737? Do you know anything more on this? Is Air India talking yet?
Q5.
We've heard the plane "overshot the runway and then crashed". Have investigators commented any further on the cause of the crash?
Q6.
Are officials saying the bad weather in Mangalore over the past couple of days had anything to do with the crash?
Q7.
We're seeing just how catastrophic the crash was from our pictures, but can you tell us more about the crash location and what emergency workers are facing there?
Q8.
Has terrorism been ruled out?
Editor:Du Xiaodan |Source: CCTV.com