Watch Video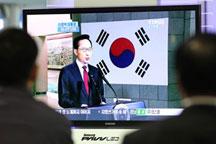 Play Video
South Korean President Lee Myung-bak says the DPRK must pay the price for the sunken vessel incident.
He added that his country will "resort to self defense measures" in the event of what he calls further military provocation.
Lee made the statement in a televised address from the country's War Memorial. He has vowed to take the Cheonan case to the UN Security Council.
Lee also said commercial ships from the DPRK will no longer be permitted to sail in South Korean waters, and that all trade and exchange with the country will be frozen.
Related stories