Watch Video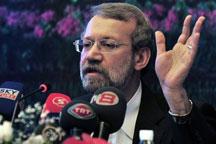 Play Video
Iran's parliament speaker has issued a warning to world powers. It says the country will abandon an offer to ship some of its uranium stockpile abroad if the United States imposes new sanctions.
Iran is due to notify the International Atomic Energy Agency on Monday of a deal struck last week with Brazil and Turkey.
Under the deal, Iran would send nearly half its low-enriched uranium to Turkey in return for fuel rods to keep a Tehran medical research reactor running.
But parliament speaker Ali Larijani, an influential conservative and Iran's former nuclear negotiator, says Washington's continued determination to impose sanctions could even lead Tehran to review its cooperation with the U.N. nuclear agency.
Ali Larijani, Iranian Parliament Speaker, said, "If the US seeks adventure, either at the level of the Security Council or the Congress, it has disrupted the entire efforts of Brazil and Turkey and the deal will be nullified."
Just hours after the leaders of Iran, Brazil and Turkey celebrated the deal last week, U.S. Secretary of State Hillary Clinton announced that all five U.N. Security Council members had agreed a draft sanctions resolution.
The new, extended sanctions would target Iranian banks. They would also call for the inspection of vessels suspected of carrying cargo related to Iran's nuclear or missile programmes.
Western powers fear Iran is secretly trying to produce nuclear weapons. Tehran denies this and says it is enriching uranium only to produce fuel for nuclear power stations.
Related stories