Watch Video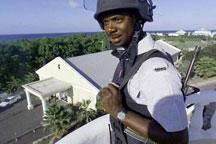 Play Video
In Jamaica, the government has declared a state of emergency in parts of its capital Kingston.
It comes after shooting and firebomb attacks on police stations by suspected supporters of an alleged drug lord, Christopher Dudus Coke, who faces extradition to the United States.
The emergency covered the West Kingston and St Andrews district of the capital, where gunmen fired on two police stations and set fire to another.
At least one policeman was injured. Streets into the Tivoli Gardens area of West Kingston, where Coke is believed to be hiding, have been barricaded.
The US Department of State has issued a travel alert warning its citizens of the possibility of violence in Jamaica's Metropolitan area.
Tensions in Jamaica rose last week after Prime Minister Bruce Golding announced he was starting proceedings to extradite Coke.
Editor:Zhang Pengfei |Source: CCTV.com