Watch Video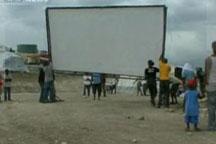 Play Video
A Haitian film crew, funded by the United Nations, has been filming a soap opera in Port-au-Prince tent camps.
The project has provided some welcome distraction to the hundreds of thousands of earthquake survivors for whom floods, danger and insecurity have become a daily reality.
Almost every weekend in May, the soap opera was shown on screens around the earthquake-ravaged capital.
Among the fans is 19-year-old Luknor, who lost his home in the January 12th earthquake that killed more than 200-thousand people and left over one million homeless.
Luknor, Audience Member, said, "Every Friday and Saturday when they show it on the screen, I like to watch it because they teach us what to do."
The program follows the trials of a homeless family, combining comedy, drama and educational messages.
The latter are provided by UN peacekeepers, who finance the series to the tune of six-thousand US dollars per episode.
Jacques Roc, Director, said, "We are making arts, we are making educational film because what we know about Haitian, is that you just can not do education, some how you have to motivate them to be educated and you have to do it through fun."
Despite the issuing of a flood warning by civil defense authorities, actors and crew still reported to the hillside camp in the neighborhood of Tabarre.
Junior Metellus, Actor, said, "I'm happy to participate. I want to give my time as an actor, so we can help them to live better. It's not easy to live in a tent like people live there."
Facing the hazards of shooting in a real camp on the flood-prone outskirts of Port-au-Prince, director Jacques Roc says the crews' dedication is the only way to make sure the series' message will resonate with the people living in the camp.
Editor:Zhang Pengfei |Source: CCTV.com