Watch Video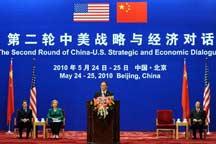 Play Video
The second round of Strategic and Economic Dialogue between China and the United States is underway in Beijing. A strong, stable recovery of the world economy and better bilateral ties will be key issues in the two-day talks. The two sides are expected to use the discussions to clear misgivings and improve trust.
The two-hundred-strong U.S. delegation has a long wish list. And China the host has always wanted to maintain stable ties and frequent dialogue.
The meeting is being co-chaired by Vice Premier Wang Qishan and State Councilor Dai Bingguo, and US Secretary of State Hillary Clinton and Treasure Secretary Timothy Guithner.
In his keynote speech at the opening ceremony, President Hu Jintao said sound bilateral ties contributes to peace, stability, and prosperity in the Asia Pacific Region and the world.
Working towards a full recovery of the global economy, better trade relations, and the currency issue will dominate the economic side of discussions.
And the two sides are also expected to create a favorable atmosphere to ease recent tension. It may require compromise to the other's core interests to move on in the strategic talks.
The Strategic and Economic Dialogue is one of the most important platforms for China-US communications and consultations. It's also one of more than sixty bilateral mechanisms.
It's hoped both sides will use the dialogue to clarify strategic intentions and clear the air.
CCTV reporter Wang Mangmang said, "Both China and the US have a long list of issues to be discussed. Some overlap, while a few run counter to other's interests. Both sides hope for candid reflections on past problems as well as discussions on those looming on the horizon. No one expects agreement on all fields, but keeping open the lines of communication is crucial."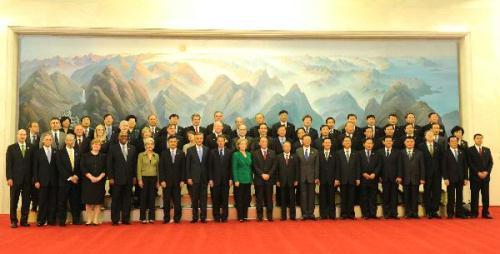 Chinese President Hu Jintao's special representatives, Vice Premier Wang Qishan,
State Councilor Dai Bingguo, U.S. President Barack Obama's special representatives,
Secretary of State Hillary Clinton and Treasury Secretary Timothy Geithner pose for a
group photo along with other representatives prior to the opening of the second round
of China-U.S. strategic and economic dialogue at the Great Hall of the People in
Beijing,capital of China, May 24, 2010.(Xinhua/Rao Aimin)
Related stories
Editor:Zhang Ning |Source: CCTV.com