Watch Video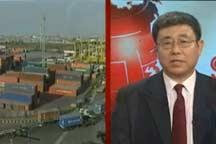 Play Video
For more insight on China-US relations, we're joined by Hua Shiping, who is a Political Science Professor from the University of Louisville, in the United States.
Q1: Welcome, Professor Hua. This year's Strategic and Economic Dialogue is underway. In your view, what's the significance of this round of dialogue?
Interview II: More practical results?
Q1. Professor Hua, this round of talks is taking place as the global economy is just gradually recovering from the financial crisis, and a current European debt crisis is taking its toll. Some economists predict this round of talks may achieve more practical results. What's your take on that?
Q2. China is the largest developing country while the US is the largest of the developed. In light of this, the two economies indeed for a complimentary relationship. How do you interpret this type of connection?

Interview III: Promoting bilateral ties
Q1. As we just heard, US citizens have high hopes for this dialogue. But they do admit that differences exist. This apparently reflects worries and doubts among the American people about bilateral ties. And for Chinese people, they may have similar doubts or even pessimistic opinions. What do you think both sides should do to boost people's confidence and further promote relations?
Editor:Zhang Ning |Source: CCTV.com