Watch Video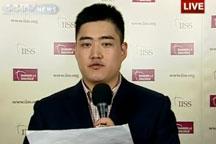 Play Video
Let's cross now to our reporter Alimusi at the Asian Security Summit in Singapore. Hi Alimusi, it is the last day of the summit, what's on the agenda for today?
Q2: With regards to US Defense Secretary Robert Gates' remarks about "sustained and reliable military-to-military contacts," a Chinese military official said efforts should be made by both countries, not just by one side. What's your perspective on China-US military relations?
Q3: Against the backdrop of a series of unstable factors in Asia, will the summit produce any concrete results?
Editor:Zheng Limin |Source: CCTV.com