Watch Video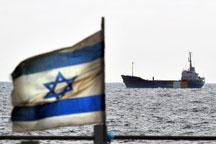 Play Video
Israeli forces seized a Gaza-bound aid vessel swiftly and without meeting resistance on Saturday. The ship was prevented from breaking a Israeli naval blockade of the Hamas-ruled territory after a similar effort turned bloody 6 days ago.
The Israeli military says Saturday's takeover began past midday local time and took just minutes.
The "Rachel Corrie," which was carrying 11 pro-Palestinian activists, eight crew and hundreds of tons of aid, was intercepted in international waters about 30 kilometers from Gaza's shore. The ship was then escorted to the nearby Israeli port of Ashdod.
Footage provided by the Israeli military showed small navy vessels pulling up to the Rachel Corrie. A military spokeswoman says the ship's captain had gathered the passengers in one area of the vessel, presumably to avoid violence.
She said commandos clambered onto the boat by sea, instead of descending from helicopters as occurred on Monday when nine activists were killed.
Communications to the Rachel Corrie had been cut earlier in the day, so satellite phones weren't operating during the takeover and activists were not reachable.
Israel has maintained it will block any attempt to reach Gaza by sea, in order to prevent weapons from reaching the Islamic group, Hamas.
Mark Regev, Israeli Government Spokesman, said, "Today thankfully we saw the interception...reaching the people of Israel."
But a Hamas official accused Israel of "piracy".
"This action is stupid...all over the world to Israel." Said Hamas Official Ahmed Yousef.
Israeli officials had said the passengers and crew members on the Rachel Corrie would be deported. Those who objected would be detained and given a chance to appeal.
But all 19 on board agreed to leave voluntarily on Sunday after being detained at Israel's international airport over Saturday night.
The outcry over the aid ships has been a public relations nightmare for Israel. The international community is demanding Israel lift or at least loosen the devastating closure that confines 1 and a half million Palestinians to a small sliver of land and only allows in basic humanitarian goods.
Editor:Zheng Limin |Source: CCTV.com