Watch Video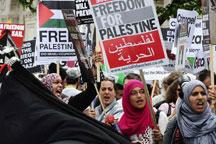 Play Video
Throughout the world, protesters are expressing their discontent at the Israeli government's blockade on Gaza, and the seizure of Gaza-bound aid vessels.
Thousands of protesters took to the streets and attended a mass rally in the Turkish capital of Istanbul.
Turkey is one of the most outspoken critics of the Gaza blockade.
Numan Kurtulmus, Leader of Felicity Party, said, "Dear Istanbul residents, the Middle East problem is not the problem of one political party, it is not the problem of one nation, and it is not just a political view. Turkey is united on this issue. Our nation as a whole shows solidarity."
Fehmi Aydogan, Pro-palestinian Protester, said, "We are here to protest Israel's cruelty, that is our only aim."
In Srinagar, the capital of Indian-administered Kashmir, protesters were seen burning an Israeli flag and chanting anti-Israel slogans.
Police fired rubber bullets and tear gas at the crowds to disperse them while protesters clashed with the security forces.
In Paris, at least 5-thousand demonstrators marched through the city, chanting slogans and carrying banners condemning the blockade of Gaza, and the seizure of vessels seeking to sail to Gaza.
"Nobody is above the law. Everybody is entitled to live, especially the poor people, especially the weak people. Let's help them. Let's all be by their side. Help us. We are all human beings. Murder, Israel." Said Paris protester.
The protests came as Israeli forces said they seized a Gaza-bound aid vessel swiftly and without meeting resistance on Saturday.
Editor:Zheng Limin |Source: CCTV.com