Watch Video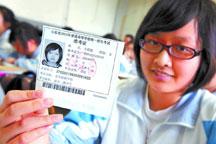 Play Video
This year's college entrance exams begin on Monday. Students and education departments across the country are getting ready for this very important day. The ministry of education says there will be 9.5 million students taking the exam this year, more than half a million less than last year.
Colleges plan to enroll a total of 6.5 million students this year. The number of candidates are less but the enrollment number is higher. As a result, this year's average enrollment rate is about to increase by 7 percent compared with last year.
Local education departments have been getting ready for the coming examination.
Guangxi Zhuang Autonomous Region is busy preparing for possible floods from heavy rain to ensure the examination will go smoothly. About three hundred-thousand students in the region will take the examination. Schools are required to double check the safety of their classrooms. In places which storms and rain happen more frequently, standby classrooms have to be prepared.
In previous years, many people have volunteered to take students to the examination sites in their own vehicles. More than six million students have enjoyed the free service in the past ten years. In Hunan Province alone, nearly four thousand volunteers are expected to provide the service again.
Of the 9.5 million students, about one-hundred thousand minority students are able to write the examination in one of seven different languages. In many places, accommodation and transportation will be offered to those students from remote areas. Under China's college entrance examination system, minority students enjoy favorable policies such as bonus marks in their final scores.
China's present college entrance examination system was established in 1949. It's considered the most important way for China to select talent and guarantee fairness in education.
The system has undergone reform since the 1980s. For example, the scale of enrollment has gradually expanded, and the limitation on age has been cancelled. Eight colleges from Hong Kong have been allowed to enroll students from the mainland since 2006. Such new policies are welcomed by students.
Editor:Zheng Limin |Source: CCTV.com