Watch Video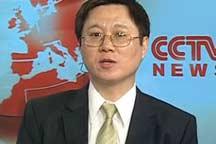 Play Video
Let's turn to our guest in the studio. Mr. Raymond Zhou is a columnist with China Daily. He's giving us more insight on China's Internet policy.
1. Government figures show the number of netizens in China had reached 384 million by the end of 2009. That's 618 times that of 1997. And it is still increasing, with an annual rise of nearly 32 million users. What do you think this means to us, both the huge number and the rapid growing speed?
2. While the accessibility of the Internet is rising rapidly, problems are emerging as China also sees increasing Internet crimes, including online fraud, theft, pornography and gambling. And the white paper also says China is one of the countries suffering most from hacking. Now what can we do to effectively combat Internet crimes?
Editor:Zhang Ning |Source: CCTV.com