Watch Video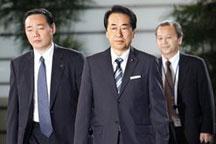 Play Video
Japan's ruling party chief and Prime Minister-elect, Naoto Kan, will officially name his Cabinet on Tuesday afternoon.
His Democratic Party of Japan is also preparing for Upper House elections which will be held in July.
Kan's Cabinet will be officially inaugurated at a ceremony in the evening. The new Cabinet is largely comprised of political heavyweights that served under former leader Yukio Hatoyama.
Kan has made it clear that continuity in the DPJ is vital for the party to consolidate its power in the Upper House election.
Prior to the official inauguration ceremony, Japan's new leader will hold his first official press conference as Prime Minister at his office.
Analysts believe Kan will touch on new ideas and strategies related to the nation's burgeoning debt, deflation, and foreign policy issues.
Editor:Jin Lin |Source: CCTV.com