Watch Video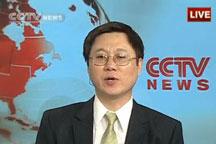 Play Video
Once again, let's turn to our current affairs commentator, Raymond Zhou who's a columnist with the China Daily.
1. Naoto Kan is going to officially inaugurate the Cabinet, this evening. Political insiders say Kan's cabinet is largely comprised of political heavyweights who served under former leader Yukio Hatoyama and the appointments are largely of no surprise. Is it a sign indicating there won't be sharp shifts in the new leadership's policies?
2.And on Japan's relations with China, political analysts say Naoto Kan pays more attention to China-Japan ties than his predecessor, Yukio Hatoyama did. What do you think a new Japanese prime minister means for China?
Editor:Jin Lin |Source: CCTV.com