Watch Video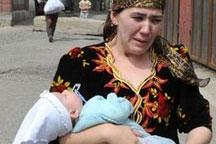 Play Video
An estimated 400,000 people in Kyrgyzstan - nearly one-twelfth its population - have fled their homes to escape ethnic violence.
Many have huddled in grim camps, dotted along the border with Uzbekistan. Thousands are without adequate food or water.
Makeshift camps on both sides of the border are home to hundreds of thousands of refugees. The displaced queue in bread lines, trying to secure a meal distributed from local stockpiles. The rules are strict: one loaf per family.
Women, children and the elderly make up the majority of the refugees. Due to a lack of resources, they are forced to drink clay-colored water drawn in buckets from a pool in the village.
Thousands of ethnic Uzbeks remain fearful of returning to Kyrgyzstan from the border areas. They are still waiting for a chance to enter camps in Uzbekistan.
Nabijan Abdurakhmanov, Refugee, said, "There are some people here who have lost everything, who lost their home and cars. They don't even plan to go back. What would they do there? Sleep on the ground?"
Although humanitarian aid has been flown into the region from Russia, the United States and other countries, observers on the ground said it was not reaching most camps and neighborhoods on the Kyrgyz side because of security concerns.
Miroslav Jenca, UN Representative, said, "Humanitarian aid is coming there but it is quite difficult to deliver the aid in a proper way to the people who are suffering."
Security in the south remains fragile. Troops encircled Osh with checkpoints and occupied the heart of the city. Fearful of a repeat of clashes, residents erected barriers and checkpoints in the border towns.
Editor:Zhang Pengfei |Source: CCTV.com