Watch Video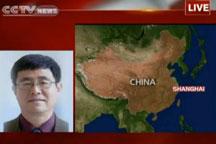 Play Video
Now, for the latest on the situation in Kyrgyzstan, we are joined on the phone by current affairs commentator, Hua Shiping, who is a professor of political science at the University of Louisville.
Q1: Hello, Professor Hua Thanks for joining us. The issue of Kyrgyzstan has attracted the attention of many countries including the United States, and Russia. What is the significance of this crisis on the international community?
Q2: The unrest in Kyrgyzstan has caused about two hundred deaths and displaced four hundred thousand people. US delegates plan to visit the area on humanitarian grounds. What do you think are the intentions of the US?
Q3: China is closely watching the situation in Kyrgyzstan. What impact does the crisis have on China- Kyrgyzstan relations?
Related stories
Editor:Zhang Pengfei |Source: CCTV.com