Watch Video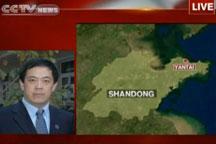 Play Video
For more insight on Iran's nuclear weapons, we are joined by Mr. Teng Jianqun, director for the Center of Arms Control, at the China Institute of International Studies.
Q1: Welcome, Mr. Teng. US intelligence says Iran's missiles may threaten Europe. Is the information accurate? Or is it just an excuse for more sanctions? The US also said Iraq had weapons of mass destruction before invading the country. What do you think?
Q2: The UN has imposed a fourth round of sanctions on the Islamic Republic, and both the US and the EU also approved tougher sanctions. But Russia says it can't accept them. How do you interpret the situation?
Editor:Zhang Pengfei |Source: CCTV.com