Watch Video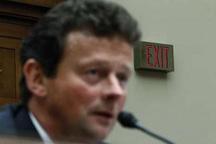 Play Video
On day 59 of the massive oil spill in the Gulf of Mexico, the BP Chief Executive faced the wrath of US lawmakers.
Tony Hayward appeared before a congressional hearing to apologize for the worst oil spill in the country's history.
The public face of BP faced an angry US public.
"You need to charged with a crime. You need to go to jail about (unintelligible) You need to be charged with a crime."
It was CEO Tony Hayward's first appearance on Capital Hill since an offshore oil rig explosion on April 20th.
Tony Hayward, BP Chief Executive, said, "I know that this incident has profoundly impacted lives and caused turmoil, and I deeply regret that. I also deeply regret the impact that this spill has had on the environment - the wildlife and the ecosystem of the Gulf."
But the oil man said he was out of the loop on all decisions at the well and told lawmakers he wasn't stonewalling.
That infuriated members of Congress even more, Democrats and Republicans alike.
Representative Bart Stupak, Michigan Democrat, said, "Mr. Hayward, you owe it to all Americans. We are not small people but we wish to get our lives back. For the Americans who live and work on the Gulf Coast, it may be years before they get their lives back. For the Americans who lost their lives on the rig, their families may never get their lives back."
But one Republican lawmaker said he was ashamed that BP was forced by the White House to set up a 20- billion-dollar compensation account.
Representative Joe Barton, Texas Republican, said, "I think it is a tragedy in the first proportion that a private corporation can be subjected to what I would characterize as a shakedown - in this case a $20 billion shakedown."
Vice President Joe Biden later called the shakedown comment "outrageous".
As of Thursday morning, the BP well had gushed as many as 447 million liters of oil into the Gulf of Mexico.
It's washed up on more than 200 kilometers of US coastline and threatens the Gulf Coast's multibillion dollar fishing industry.
Editor:Zhang Pengfei |Source: CCTV.com