Watch Video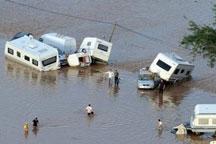 Play Video
French authorities say the death toll from severe flooding in the country's southeast Le Var region, has risen to 25. The flooding is the worst in 180 years.
The flooding, triggered by heavy rainstorms, began on Tuesday. Torrents of muddy water, badly damaged hundreds of homes, together with many vehicles. Cars were stacked on top of each other on mud-clogged streets. Electricity, telephone and water services were all affected.
Gest Therry, Local Resident, said, "The water was two meters high, my mother was trapped on the first floor, all the damage is plain to see, there's nothing else to do but look. We lost everything."
More than 100 rescue missions have been carried out, with nearly 2,000 civilians being taken to shelters.
Chantal, Local Resident, said, "We're alive, that's all that matters. Some people have died, but we're alive, that's a good thing. The holiday is over but we have time."
But the country's weather forecasting service, Meteo France, warns that Thursday's thunderstorms could bring new heavy rainfall or hail. French ministers are holding a meeting to discuss aid measures, as President Nicolas Sarkozy plans a visit to the area next week.
Related stories