Watch Video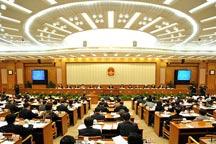 Play Video
Top legislators have gathered to discuss six draft laws and amendments at the latest session of the Standing Committee of the 11th National People's Congress. Several reports by the State Council will also be considered at the session.
The draft amendment to the Oil and Natural Gas Pipeline Protection Law will be the first read at the session. After two hearings, Standing Committee Members will raise more suggestions to be discussed over the next few days.
Zhang Bailin, Law Comm. member of NPC Standing Committee, said, "Some members suggest that the government's responsibility of the pipeline protection should be separated from the pipeline firms. The Law Committee accepts this proposal and considers that the companies have the primary responsibility to protect the pipeline and ensure its safe operation."
Members will discuss a draft amendment to the Administrative Supervision Law for the second time.
Liu Jirong, Law Comm. member of NPC Standing Committee, said, "Information of those reporting issues of violating administrative laws and regulations is sometimes disclosed to the people who are subject to the report. This can lead to retaliation. The amendment should be more clear on the responsibility of information leaking."
The Standing Committee will also discuss draft amendments to the Organization Law of Village Committee, the Law of Officers in Reserve Service, and the People's Mediation Law.
Editor:Zhang Ning |Source: CCTV.com