Watch Video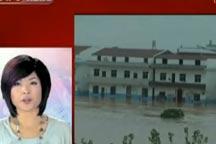 Play Video
The second largest river in south China's Jiangxi Province has breached a dyke in Changkai County, threatening around 145,000 residents. For more information, we are joined live by our reporter Li Yani, who's near the site.
1. Can you update us on the latest situation there?
2. What contingency measures have been taken by the local government?
Editor:Zhang Ning |Source: CCTV.com