Watch Video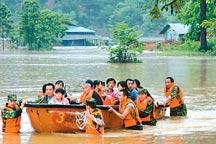 Play Video
Bad weather is causing more damage to southern provinces of China. A rainstorm swept through Sanhu village in Xingan County in eastern China's Jiangxi Province on Monday.
Floods overwhelmed the entire village, destroyed farmland and homes, and trapped hundreds of people. Soldiers quickly reached the flooded area, and have so far rescued two hundred people.
Within half an hour of the flood hitting, 15 firemen reached Sanhu, to find the entire community trapped by water up to 2 meters deep. They were able to hear trapped villagers calling for help.
The urgent situation meant there was no time to gather further relief equipment - the rescuers had to make do with what they had - two wooden boats and one assault boat.
The soldiers never let up in their efforts.
They managed to rescue a mother and her two children. But for those trapped upstairs, things were not so easy.
Rescuers had to shout out loudly to locate the remaining trapped people. In the end, they reached them with a ladder from the assault boat.
Rescuer in Sanhu Village said, "It's OK. It's OK. I've got you. Just hold tight. Everything's fine."
Things were not so easy for older people. This grandmother had to overcome her nerves to climb out of the window.
Rescuer in Sanhu Village said, "Turn around to face the window. Yes, hold it. Take it easy, no hurry."
Relief efforts like this were repeated in the village for about six hours. The 15 rescuers managed to relocate 200 people by nightfall. And their efforts are still continuing.
Editor:Zhang Jingya |Source: CCTV.com