Watch Video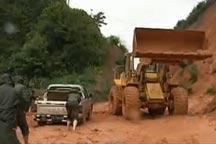 Play Video
Now, let's focus on the situation in Taining County, Fujian Province, where flooding has caused extensive damage. With some roads now reopening, it is becoming easier for vehicles to reach the flooded area.
This is the road leading to Shangqing village, Taining county. Mud flow on the road has caused substantial damage, and is still making driving very hazardous.
Soldiers have been called in several times to free cars that were stuck.
In the village, there is debris everywhere. Almost all the buildings have collapsed or been washed away. Many people are not allowed to enter their damaged homes, for fear of further collapse.
Resident of Shangqing village in Tainng county said, "When the floods came, I saw four motorcycles and a tractor all swept away in minutes."
More than ninety percent of people in the village have been affected by the disaster. Water and electricity supplies are cut off, and there is no communication with the outside world. Fortunately, local people have managed to escape the immediate dangers, and are being housed in safe areas.
Resident of Shangqing village in Tainng county said, "Almost all our houses are destroyed. The local government sent food to us, and we are receiving more help from them, and from relatives."
The local government is making every effort to repair the road and resume the electricity supply. Heavy machinery has already been brought in to clear the debris. The situation for the villagers of Shangqing will continue to improve, as long as rescue workers are able to reach the county.
Editor:Zhang Jingya |Source: CCTV.com