Watch Video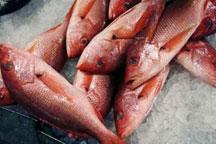 Play Video
BP's oil spill in the Gulf of Mexico has entered its 64th day. Spewing oil has not only contaminated southern US states, but also taken its toll further east. New York has witnessed a chain reaction knocking its seafood market.
It's considered the New York Stock Exchange of seafood.
The New Fulton Fish Market in The Bronx is America's oldest fish market, housing 37 wholesalers.
Among them - JMS Seafood.
With a third of the Gulf of Mexico closed to fishing due to the BP oil spill, owner Scott Bernstein says his wholesale seafood business is losing tens of thousands of dollars a week.
Scott Bernstein, JMS Seafood Owner, said, "We've probably been losing about $10,000 (USD) a week in profit just from our oysters."
It's still early days, and wholesalers admit the worst is yet to come. Thirty-six per cent of the Gulf has now been closed to fishing, and the wholesale seafood industry fears the knock-on effect could be severe.
JMS Seafood worker Joe Pagillo says although he welcomes the BP Disaster Victim Compensation Fund, it would do little to help him and his family.
Joe Pagillo, JMS Seafood Worker, said, "The commercial fishermen down there, they're getting subsidised, what about people like us if we go out of work? Are we going to get subsidised? Is the government going to take care of us? You gotta think of that, you know? If we keep getting less and less and people are afraid to buy and people don't buy fish, I'm going to be out of a job, and who's gonna pay me?"
From the market - to the dinner plate - New York seafood restaurants are beginning to feel the economic impact of the BP oil disaster as well.
Executive Chef Joseph Vaina of City Crab and Seafood said shrimp prices have jumped almost a dollar a pound.
Joseph Vaina, Executive Chief, City Crab & Seafood, said, "We don't purchase that much fish from down from that region, anyway, but the fish that we do use, such as shrimp and whatnot, that is starting to have an affect on the market here. Since it's not being harvested as much as it was, it's driving the prices here for our shrimp up almost to a dollar a pound now, so the impact is definitely being felt."
He says his message to BP is simple - clean up your mess.
Editor:Zhang Pengfei |Source: CNTV.CN