Watch Video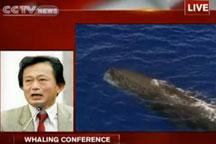 Play Video
For more analysis of the international whaling conference, we are joined on the phone by Yoichi Shimatsu, former editor of the Japan Times.
Q1: Hello, Mr Shimatsu. How do you see the significance of the International Whaling Conference?
Q2: We know there is a proposal to suspend the current ban, to allow closer monitoring of whaling nations such as Japan, Norway and Iceland. Do you think such a policy would work?
Editor:Zhang Pengfei |Source: CCTV.com