Watch Video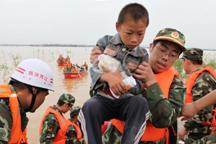 Play Video
Heavy rain continues to wreak havoc in Jiangxi Province, with no immediate signs of easing. Many rivers have burst their banks, causing severe flooding. Matt East takes a look at the hardest-hit counties, and how the locals are coping.
This past week, Nancheng county in Jiangxi Province has suffered from record rainfall. Residents have managed to escape the danger and over sixty thousand have been re-housed in safe areas.
Quannan county is suffering landslides and flooded roads. Over four thousand hectares of crops have been destroyed. All-out relief work by the local government has managed to bring stability.
All roads connecting Taihe township to the outside have been damaged. But two hundred stranded students have been evacuated to safety.
The region remains on high alert, as more heavy rain is forecast for the coming days.
Editor:Zhang Jingya |Source: CCTV.com