Watch Video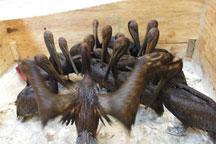 Play Video
Staying with the Gulf of Mexico disaster and wildlife populations along the Lousiana coast are struggling to survive as more oil continues to wash ashore.
Florida is facing the same problem. Emergency workers are racing to help as many affected animals as they can.
The Bayou shoreline is exposed to thousands of gallons of oil spewing into the Gulf of Mexico every day.
The marshes of the Louisiana Bayou is home to hundreds of different wildlife species and unique ecosystems that are now facing destruction or extinction.
Oil booms and absorbent material line some of the marshes in an attempt to keep the worst of the oil at bay.
Jaime Matyas from the National Wildlife Federation says she was shocked by what she saw in the water.
He said, "When you think about oil -- oil slicks on the road -- and it's translucent and reflective of the sun. And this is thick, and gloopy and it's unreal to think about how we're going to clean this up, let alone stop it from coming."
Florida's state emergency workers say the pudding-like mixture covered 5 kilometers of Pensacola Beach, a barrier island that is part of the Gulf Islands National Seashore.
Small tar balls have washed ashore on beaches in tourism-dependent western Florida in the last couple of weeks, but large slicks of oil and tarry mats floated in on Wednesday.
The Coast Guard says it will take days to clean up the gooey mess from Pensacola Beach, even if no more arrived.
Oil giant BP suffered a setback in the clean up process on Wednesday.
A team of U.S. scientists estimate the leak is spewing between 35,000 and 60,000 barrels a day.
Editor:Zhang Jingya |Source: CCTV.com