Watch Video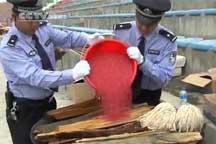 Play Video
The China Narcotic Control Association has held an event in Pu'er City in the southwestern Yunnan province, to mark World Anti-drug Day.
Seven thousand college students took the pledge to cherish their life and say no to drugs. The local police also publicly burned tons of various drugs.
Pu'er is on the border with the main illegal opium producing area "Golden Triangle" in Southeast Asia.
The city has always been the front line of Chinese anti-drug activities. Dealers ship the drugs from Pu'er to other places in China. The price of heroin in Xinjiang could be 5 times more than its wholesale price in Pu'er.
Liang Zhengjun, Director of Pu'er City Bureau of Public Security, said, "Last year's drug seizures showed a shift toward newer types of narcotics. Bulk drug trafficking cases are increasing. Trafficking has become more complicated as gang violence and armed trafficking have also increased. Some cases involve criminals both inside and outside China. We will take tougher measures to safeguard our country's southeast gate."
Related stories
Editor:Zhang Pengfei |Source: CCTV.com