Watch Video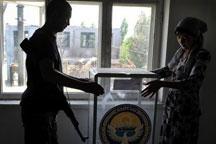 Play Video
Kyrgyz voters have begun to cast ballots at 2,300 polling stations across the country to determine the fate of a new constitution.
The core content of the new constitution is to transfer the country from a presidential system to a parliamentary democracy.
The interim government headed by Roza Otunbayeva, which took power after former President Kurmanbek Bakiyev was ousted in April, hopes to gain legitimacy from the referendum.
They lowered the turnout threshold to validate the ballot results from 50 percent to nil.
Anti-government political factions, meanwhile, are trying to stir up trouble in violence-prone areas to try to scare away voters.
In addition, some extremist ethnic groups are reportedly planning more bloodshed on Sunday in volatile southern regions.
According to an investigation by the UN, some terrorists and extremists were behind earlier riots in the south.
The violence in mid June killed at least 264 people, and left 300,000 homeless.
The United States and Russia, which both have air bases in the former Soviet republic, say they will support a strong government in order to contain the spread of violence.
However, whether Kyrgyzstan's armed forces, which could not stop the large scale unrest, can fully control the situation still remains unclear.
Whatever the results of the vote, various parties in the interim government will likely begin jockeying for power ahead of parliamentary elections this fall, creating further divisions.
Editor:Zhang Ning |Source: CCTV.com