Watch Video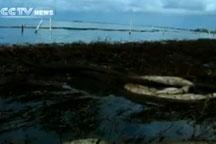 Play Video
A tropical storm churning in the Caribbean could be the latest bad news for BP. It's trying to contain and clean up the massive oil spill in the Gulf of Mexico. The operation has been plagued by setbacks for more than two months.
It's still too early to tell exactly where Tropical Storm Alex might go or how it could affect oil on and below the surface of the Gulf. If gale-force winds are predicted within five days, BP will begin moving the armada of ships working on the spill. They include the rigs drilling two relief wells that are the best hope of stopping the oil. The wells are expected to be completed by mid-August if bad weather doesn't interrupt the drilling.
BP says its effort to drill through four kilometers of rock to relieve pressure on the blown-out well is on target. Once the new well intersects the ruptured one, BP plans to pump in heavy drilling mud to stop the oil flow and to plug the well with cement.
Editor:Zhang Ning |Source: CCTV.com